Fashion, News: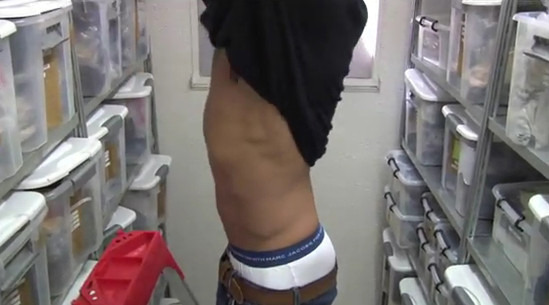 Video Of Robert Duffy Taking His Clothes Off At Marc Jacobs Office Pulled Down As Quickly As It Surfaced
While the company denied the allegations, evidence of awkward workplace behavior has surfaced — such as when Duffy started tweeting and posted photos of dudes in the office lifting their shirts to expose their torsos. Though those photos have been taken down, a new video of Robert Duffy taking his clothes off in the stockroom while "working up a sweat" was posted to the official Marc Jacobs YouTube channel today. Apparently after
Fashionologie
blogged it, once again reminding everyone about the lawsuit — as if allegations of forced office pole dancing are so hard to forget — the company ripped it down. Before that happened, the
Huffington Post
put up some screen grabs of Duffy doing his thing.
Taking one's clothes off in the stockroom may not be the best idea, but at least Duffy's got the body for it. Or shall we say, the
bod
for it. That is totally a bod.