The newlyweds
traded in their horse-drawn transportation for an Aston Martin convertible complete with a classic license plate: "JU5T WED."


Driving away from Buckingham Palace through the Mall Friday afternoon – William in the driver's seat – the
Duke and Duchess of Cambridge
smiled and waved to well-wishers.

On the front of the vehicle was a red letter "L" – which stands for "learners permit."

Dr. David Livingstone, head of St. Andrew's University where the newlyweds met, remarked: "We were all speculating – he can fly a helicopter, but can he start the car?"
Next stop for the newlyweds: Prince Charles is throwing a dinner dance at 7 p.m. London time for about 300 guests at the palace.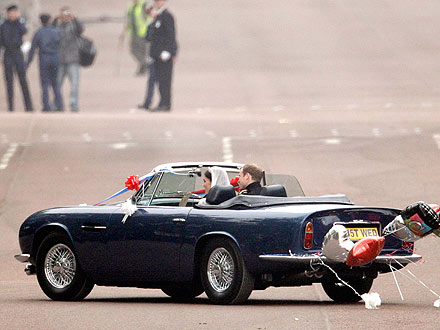 Photo: AP/Matt Dunham