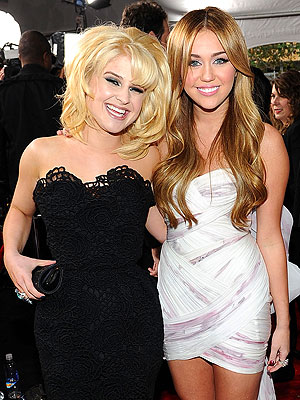 Miley a pot head? Ya don't say...
According to People.com, actress-singer Miley Cyrus is a self-procliamed "stoner."
Miley celebrated her 19th birthday on November 23rd at Beacher's Madhouse at the Roosevelt Hotel in Hollywood. In a video from the private soiree - which was hosted by pal Kelly Osbourne - Ms. Miley admits to how much she loves to smoke the ganja.
She said at the bash during her Bob Marley birthday cake acceptance speech:
"You know you're a stoner when your friends make you a 'Bob Miley' [birthday] cake."
"You know you smoke way too much fucking weed."
WE-EED say that's a pretty good way to tell too, Miles.
On top of confessing her love for marijuana, Cyrus gushes on how 'amazing' her Bob Marley birthday cake was.
Shortly after the bday speech, Osbourne tweeted:
"let me make something very clear after @MileyCyrus salvia incident we started calling her bob miley as a JOKE! the cake was also A JOKE!
it makes me sick that @MileyCyrus so called 'friends' would sell her out and lead people 2 believe she is someone that she is not!"
After all that defense on Cyrus' behalf, Kelly went on with more points on how Miley couldn't possibly do all she does (recording, filming, touring) "if she was a stoner."
Welp, Kelz, that's not entirely true. Not everyone suffers the same set-backs and side effects to marijuana as others. And Miles - if you wanna toke, toke. You're a grown ass woman, just don't be so quick to air your dirty laundry even if the attempt is to "keep it real." Some things are better left private. ;)