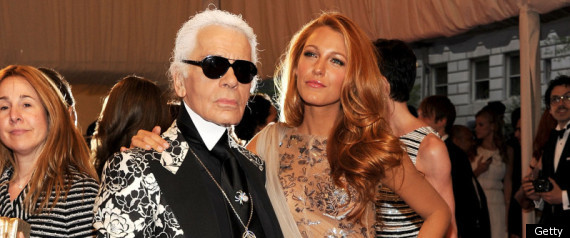 "Gossip Girl,"

modern-day Jackie O.

and Chanel Mademoiselle face Blake Lively sat down with songstress Florence Welch for

Glamour

's latest issue

to answer the age-old question: how does she do it? Without the help of a stylist, for starters:
FLORENCE WELCH: What's amazing is that you don't have a stylist, do you?
BLAKE LIVELY: You know, my mom modeled and made clothes, so I always had such an appreciation for design. And then Gossip Girl completely blew open the door to fashion for me. I'd go to fashion shows and call my publicist and say, "Can I wear that?" I think I became my own stylist by not knowing any better. And once I was told it was time to get one, I thought: This is one of my favorite hobbies! And I'm going to pay someone to steal my hobby from me? That's a terrible idea!
FLORENCE WELCH: When you're getting ready for an event, what are your rules?
BLAKE LIVELY: I like it to be easy. I don't feel like I have to do so much with hair and makeup, because I'm the mannequin for these beautiful clothes, so I never want to do anything too distracting. Most of the time, I put my hair in a ballerina bun, and I take it down and it's wavy, and then I leave. I feel shy when people are fussing on me. And my diet of choice before events is a chicken potpie from Tea & Sympathy, because they never have enough food at these things.
And then Florence was like, "Blake, you're so beautiful." And Blake was all like, "No, Florence, you're so beautiful." Is it wrong that we love to hate Blake? But that we love to love Florence?